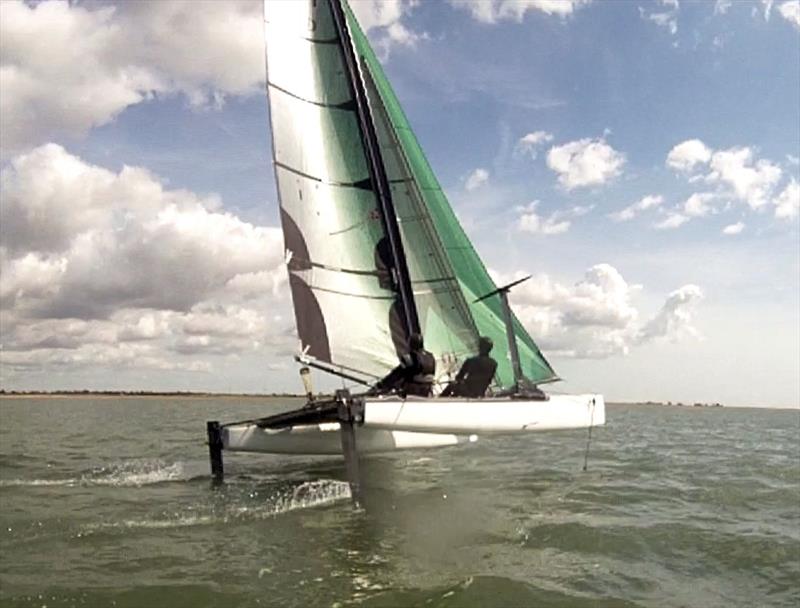 The Vattenfall Forts Race, scheduled for the 13/14th September, will see the next phase of extreme foiling boats take to the water. An experimental 20 foot foiling catamaran, The Vampire owned by William Sunnucks, will be making its race debut in the UK's premier catamaran long distance race.
In its previous guise The Vampire, originally an M20 from Marstrom Composites in Sweden, has taken line honours over the last 4 years in the major UK and North European long distance races such as Round Texel, Raid de Houat, Kent Forts Race and the Three Piers Race. William and his team (Kevin Ellway, designer of the Exocet International Moth and Graham Eales the renowned Brightlingsea based boat builder) have added canted T foils with the intention that, when the development work is complete, the technology should be transferable to other catamaran platforms such as the Tornado, F16 and F18. On the water trials have been ongoing at Brightlingsea and the development team have reported downwind speeds consistently over 20 knots, peaking at around 26 knots.
With the forecast for this weekend looking ideal for the 19th running of this long distance challenge, the race debut of this innovative design concept adds an extra dimension to the event build-up.